Events in Salzburg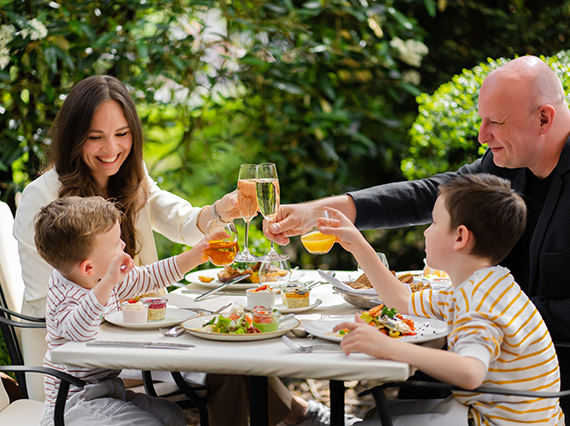 Sunday Lunch Buffet
Every Sunday from 12pm until 2.30pm
Enjoy Sheraton Sunday Lunch buffet every Sunday and gather with family and friends in the Restaurant Mirabell. The team of Restaurant Mirabell warmly welcomes you with a glass of sparkling wine accompanied by live piano music. Be pampered with a wide selection of hot and cold dishes from the show kitchen and a delicious dessert buffet from the patisserie.
---
EUR 48.00 per person incl. sparkling wine and 3 hours free parking in the underground car park (12pm to 3pm)
On bank holidays different prices may apply. Children under 12 years old eat for free during the Sunday Lunch Buffet. Pensioners pay EUR 41,00 per person (except on bank holidays).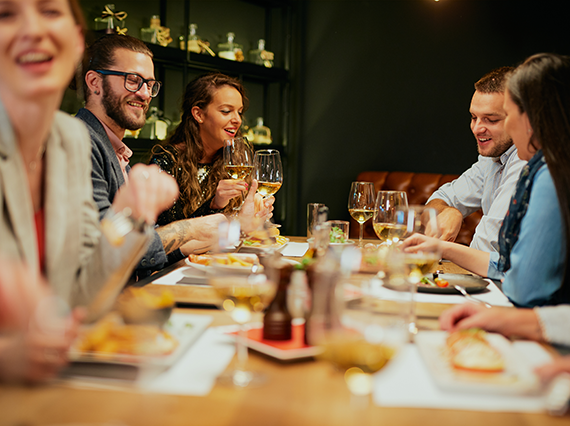 FRID*EX DINNER
Every Friday from 6pm to 9.30pm
16 dishes Cross Over: 5 starters, 2 soups, 5 main courses and 4 desserts! FRIDay EXperience - Friday experience - stands for a different kind of dinner. Get to know the diversity and variety of our cuisine and choose from 16 dishes, which you can order using Post-It and pens. Creative gourmets are welcome to put their drawing skills on paper during the courses. Look forward to an extraordinary "dinner experience" at the Restaurant Mirabell.
---
EUR 48.00 per person incl. FRID*EX Menu, 1 glass of sparkling wine and water
LIVE MUSIC: Every Friday local artists entertain you with soft and upbeat live music at Piano Bar from 5pm.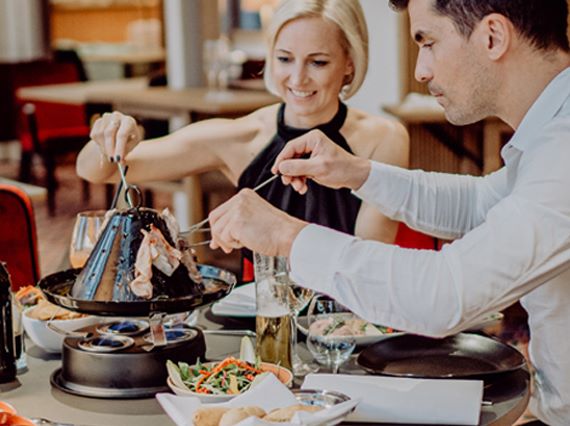 Traditional "Hat-Dinner"
Every Saturday from 6pm to 9.30pm
Every Saturday you can enjoy our traditional hat dinner in the cozy atmosphere of Restaurant Mirabell. The hot iron hat, or brim of the hat, is filled with hearty beef soup and vegetables, on which everyone can sizzle his culinary delicacy. To every hot hat we serve you a selection of meat and spicy vegetable variations, fresh salads, crispy garlic bread, homemade sauces and spice salts, as well as potato wedges. The "Hat-Dinner" is a very special dinner experience and is ideal for evenings to gather with friends or celebrations in small groups. To the traditional "Hat-Dinner", we recommend you corresponding craft beers of the local Salzburg Stiegl Brewery.
---
EUR 36.00 per person with chicken breast, pork fillet, fillet of beef and saddle of veal
(Bookable for two or more people)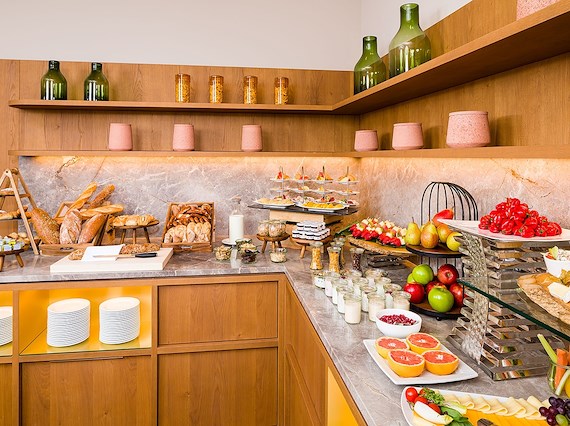 Full American Breakfast Buffet
Daily from 06.30 am till 10.30 am
Start the day with a delicious breakfast at Restaurant Mirabell and enjoy a wide variety of warm and cold breakfast goods, freshly prepared egg dishes and fairtrade coffee and tea specialties. In good weather, we welcome you on our beautiful Mirabell Terrace with views into the park.
---
EUR 33,00 per person incl. coffee/tea, sparkling wine, juices, water